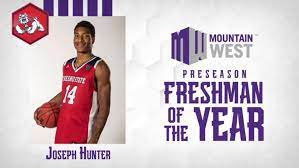 With the 15-man Fresno State roster filled with 13 upperclassmen, it was freshman guard that stood out for the Bulldogs during the preseason polling among Mountain West Conference schools.
As one of the most heralded Bulldog recruits in the school's history, Joseph Hunter was named the preseason Mountain West freshman of the year as Fresno State was tabbed as the seventh-best team after posting a 23-13 record last season.
In addition Hunter, Fresno State scored big on the recruiting circuit last spring by signing Jordan Brinson, a first-team junior college all-American.  In leading Salt Lake Community College to a 35-2 record last season a second place in the JUCO nationals, Brinson averaged 13.7 points, 4.8 rebounds and 3.2 assists per game.
Hunter and Brinson will also be two of the featured players at the 2022 Paycom Wooden Legacy to be played on November 23 and 24 at the Anaheim Arena at the Anaheim Convention Center.
Fresno State challenges Washington of the Pac-12 Conference in the first Paycom Wooden Legacy game on November 12 at 6:30 p.m. (PT) followed by the perennial West Coast Conference power Saint Mary's meeting Vanderbilt of the Southeastern Conference.  The opening round winners meet the next evening at 9:30 p.m. for the Paycom Wooden Legacy trophy.
All-Session tickets for the Paycom Wooden Legacy can be purchased online with tickets ranging from $70 to $100 for the lower bowl premium seating and $40 for the upper bowl general admission seats.  Visit TheWoodenLegacy.com for exclusive offers and tournament updates  Fans can also follow the event on Facebook, Twitter and Instagram.
Hunter's appearance on the Bulldog roster comes after Fresno State won The Basketball Classic post-season title by defeating Coastal Carolina in the finals.  The Bulldogs ended the 2021-2002 season winning their last four games after losing in the Mountain West quarterfinals to NCAA qualifier San Diego State.
Ranked as one of the nation's Top 100 recruits (No. 64 overall, No. 5 shooting guard nationally and the No. 8 recruit in California) by to 247 Sports, Hunter averaged 31.8 points per game as a senior at San Joaquin Memorial High School in Fresno to finish his prep career with 2,337 points
Fresno State hosts Stanislaus State in a November 2 exhibition game before opening their regular-season schedule on November 7 against cross-town rival Fresno Pacific.  Before their game with Washington, the Bulldogs meet UC Santa Barbara in Santa Cruz on November 11 before hosting San Francisco on November 17 and playing at North Texas on November 19.