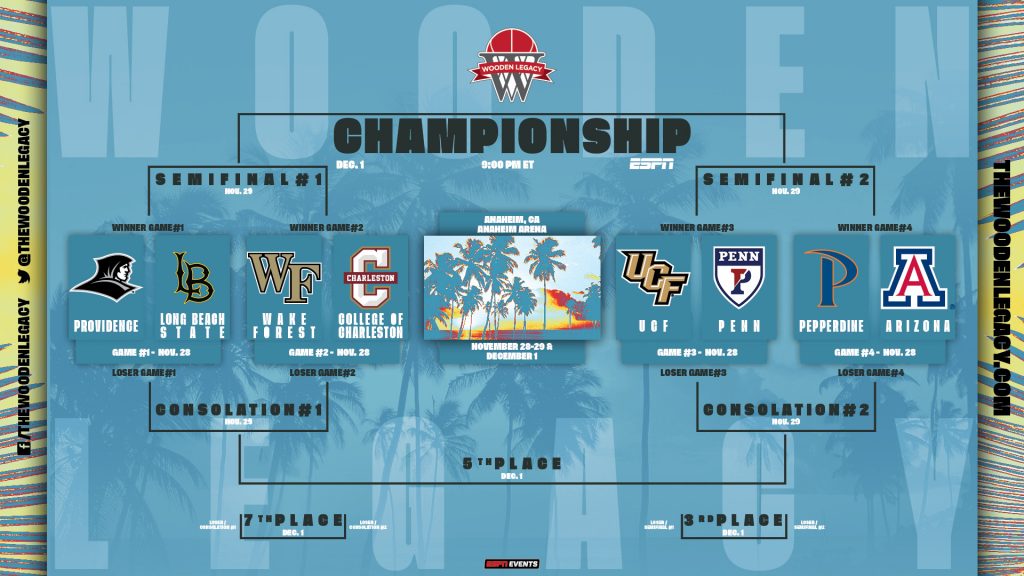 The matchups for the 2019 Wooden Legacy have been released and will be played November 28 and 29, and December 1.  The three-day, 12-game bracket tournament will take place in Southern California at Anaheim Arena during the Thanksgiving weekend.
With the Big West Conference hosting the event for the 13th-time, the 2019 Wooden Legacy returns to Anaheim Arena after being played the past six seasons at Titan Gym on the campus of Cal State Fullerton.
Long Beach State will be the host school as the 49ers will be competing in their third Wooden Legacy highlighted by a third-place in 2014.  Long Beach State also participated in the 2009 Wooden Legacy when it was called the Anaheim Classic and was played at the city's Convention Center.
Other schools in the 2019 Wooden Legacy are Arizona (Pac-12), College of Charleston (Colonial Athletic), Penn (Ivy), Pepperdine (West Coast), Providence (BIG EAST), UCF (American Athletic) and Wake Forest (Atlantic Coast).  UCF competed in the 2019 NCAA tournament and Providence had an invite to the NIT.
The Wooden Legacy was formed in June 2013 when the John R. Wooden Classic was merged with the Anaheim Classic, which was an eight-school bracketed event played for six years (2007-2012) at the Anaheim Convention Center.
Past Anaheim Classic/Wooden Legacy winners were USC (2007), Wake Forest (2008), West Virginia (2009), UNLV (2010), Saint Louis (2011), Cal (2012), San Diego State (2013), Washington (2014), Michigan State (2015), UCLA (2016), Washington State (2017) and Seton Hall (2018).
 Owned and operated by ESPN Events, all 12 games of the 2019 Wooden Legacy will air on ESPN, ESPN2, ESPNU and available on the ESPN App.  All times listed are Pacific (other time zones).
Thursday, November 28
Game 1 – Providence vs. Long Beach State, 11 a.m., ESPNU
Game 2 – Wake Forest vs. College of Charleston, 1:30 p.m. ESPNews
Game 3 – UCF vs. Penn, 5:30 p.m., ESPNU
Game 4 – Pepperdine vs. Arizona, 8 p.m., ESPN2
Friday, November 29
Game 5 – Providence/Long Beach State winner vs. Wake Forest/College of Charleston winner, 11 a.m., ESPN2/ESPNews
Game 6 – Providence/Long Beach State loser vs. Wake Forces/College of Charleston loser, 1 or 1:30 p.m., ESPN2/ESPNU
Game 7 – UCF/Penn loser vs. Pepperdine/Arizona loser, 6 p.m., ESPNews
Game 8 – UCF/Penn winner vs. Pepperdine/Arizona winner, 8:30 p.m., ESPN2
 Sunday, December 1
Game 9 – Game 6 and Game 7 winners, 10:30 a.m., 12:30 or 1 p.m., ESPN2/ESPNews
Game 10 – Game 5 and Game 8 losers, 10:30 a.m., 12:30 or 1 p.m., ESPN2/ESPNews
Game 11 – Game 6 and Game 7 losers, 3:30 p.m., ESPN2/ESPNU
Game 12, Championship – Game 5 and Game 8 winners, 6 p.m., ESPN