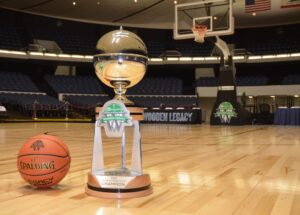 Tonight's Paycom Wooden Legacy championship game will be the 14th meeting between the two schools.  Both USC and San Diego State will be seeking their second Paycom Wooden Legacy title.
CHAMPIONSHIP LEGACY – Ten of the first 12 Paycom Wooden Legacy championship teams went on to play in the NCAA Tournament.  With the 2020 NCAA championships canceled due to Covid, ESPN's 2020 NCAA bracketology had 2019 Legacy champions Arizona listed as a No. 7 seed in the Midwest Region.
THE WINNING WAYS, PART I – Since the beginning of the 2016 season, USC has picked up 139 victories, which are the 15th-most by any team in the six Power basketball conferences over that period (ACC, Big 12, Big East, Big Ten, Pac-12 & SEC). The last three seasons, USC's 52 total wins are the third most among all six basketball power conference teams through games of Nov. 25.
PART II – USC had a 47-17 record the last two seasons which ranked third among all of the schools in the six power basketball conferences (ACC, SEC, Big Ten, Big 12, AAC and the Pac-12). The Trojans went 25-8 during the 2020-21 season and have won 20 or more games in five of the last six seasons under Andy Enfield. The 25 wins last season were tied for the second most in school history, one behind the USC record of 26 wins set in 2017 (26-10). USC's 134 wins in the last six seasons were tied for 15th among all of the Power 6 conference schools.
PART III – San Diego State has won at least 19 games in 16 straight seasons and has advanced to the postseason in 13 of the last 15 seasons in which a champion was crowned. SDSU is 9th nationally in winning percentage (.758) since the beginning of the 2010-11 season.  Since 2006, SDSU's 12 appearances in its conference championship game are the second most in Division I.
PART IV – The Aztecs have won 16 of its last 21 regular season neutral site games as fifth-year coach Brian Dutcher earned his 100th career win last night against Georgetown.
PART V – Since the 2014 campaign, San Diego State has claimed three exempt event championships – the 2013 Paycom Wooden Legacy, 2016 Diamond Head Classic and 2019 Continental Tire LV Invitational.
Friday, November 26 (ET)
6 p.m. (9 p.m.) – Saint Joseph's Georgetown, ESPNU
Georgetown leads Saint Joseph's 17-16, last meeting Jan. 8, 1980, Georgetown 62, at Saint Joe's 53
8:30 p.m. (11:30 p.m.) – Championship, USC San Diego State, ESPN2
USC leads San Diego State 10-3, last meeting Nov. 25, 2012, San Diego State 66, at USC 60
Thursday, November 25 (attendance 1,402)
USC 70, Saint Joseph's 55 (USC now leads the series 2-0)
San Diego State 73, Georgetown 56 (the series is now tied 1-1)
USC won the inaugural Paycom Wooden Legacy in 2007 by defeating Southern Illinois 70-45 in the title game.
USC will be seeking the Pac-12's seventh Paycom Wooden Legacy title as Cal (2012), Washington (2014), UCLA (2016), Washington State (2017) and Arizona (2019) have captured titles.
USC is competing in its eighth in-season tournament organized and operated by ESPN Events.
The Trojans have a 15-7 record in those events with titles at the 2007 Paycom Wooden Legacy, and 2009 and 2017 at the Diamond Head Classic in Honolulu.
USC defeated UNLV 67-56 for the 2009 Diamond Head
San Diego State won 2013 Paycom Wooden Legacy by defeating Marquette 67-59 in the title contest.
The Aztecs also lost the 2017 Legacy title game with a 93-86 setback to Washington State.
SDSU will be seeking the Mountain West's second Legacy title as UNLV captured the 2010 title.
The Aztecs are competing in their fifth in-season tournament organized and operated by ESPN Events.
San Diego State has a 11-2 record in those events with titles in 2003 at the Paycom Wooden Legacy and 2016 at the Diamond Head Classic. The finished second twice at the 2012 Diamond Head and 2017 Wooden.
Paycom Wooden Legacy Championship Games
XIV   November 26, 2021          USC (Pac-12) vs. San Diego State (Mountain West)                        Anaheim Arena
XIII   December 1, 2019            Arizona (Pac-12) 73, Wake Forest (Atlantic Coast) 66                                  Anaheim Arena
XII    November 25, 2018          Seton Hall (Big East) 83, Miami (Atlantic Coast) 81                                  Titan Gym
XI     November 26, 2017          Washington State (Pac-12) 93, San Diego State (Mountain West) 86          Titan Gym
X      November 29, 2016          UCLA (Pac-12) 74, Texas A&M (Southeastern) 67                     Honda Center
IX     November 29, 2015          Michigan State (Big Ten) 77, Providence (BIG EAST) 64                          Honda Center
VIII   November 30, 2014          Washington (Pac-12) 68, UTEP (Conference USA) 65                Honda Center
VII    December 1, 2013            San Diego State (Mountain West) 67, Marquette (BIG EAST) 59          Honda Center
VI     November 25, 2012          Cal (Pac-12) 78, Pacific (Big West) 58        Anaheim Arena
V      November 27, 2011          Saint Louis (Atlantic 10) 83, Oklahoma (Big 12) 63                                       Anaheim Arena
IV     November 28, 2010          UNLV (Mountain West) 71, Virginia Tech (Atlantic Coast) 59                     Anaheim Arena
III     November 29, 2009          West Virginia (BIG EAST) 84, Portland (West Coast) 66                        Anaheim Arena
II      November 30, 2008          Wake Forest (Atlantic Coast) 87, Baylor (Big 12) 74                                       Anaheim Arena
I       November 25, 2007          USC (Pac-12) 70, Southern Illinois (Missouri Valley) 45                                 Anaheim Aren 
Championship Game Individual Highs
Points – 30, Malcolm Delaney, Virginia Tech vs. UNLV, 2010
Rebounds – 13, Vince Hunter, UTEP vs. Washington, 2014; Oliver Sarr, Wake Forest vs. Arizona, 2019
Assists – 10, Daniel Hackett, USC vs. Southern Illinois; Lonzo Ball, UCLA vs. Texas A&M, 2016
Steals – 4, Henry Dugat, Baylor vs. Wake Forest, 2008, Trey Kell, San Diego State vs. Washington State, 2017
Blocks – 3, James Johnson, Wake Forest vs. Baylor, 2008; Richard Solomon, Cal vs. Pacific, 2012; Robert Williams, Texas A&M vs. UCLA, 2016; Lonzo Ball, UCLA vs. Texas A&M, 2016
Championship Game Team Highs
Points – 93, Washington State vs. San Diego State, 2017
FG Made-Attempted – 33-74, 44.6%, San Diego St. vs. Wash. St., 2017
FG Pct. – 29-48, 60.4%, Saint Louis vs. Oklahoma, 2011
3P Made-Attempted – 13-30, 46.4%, Wash. St. vs. San Diego St., 2017
3P FG Pct. – 5-7, 71.4%, USC vs. Southern Illinois, 2007
FT Made-Attempted – 34-48, 70.8%, Wake Forest vs. Baylor, 2008
FT Pct. – 23-26, 88.5%, Wake Forest vs. Arizona, 2019
Fouls – 30, Baylor vs. Wake Forest, 2008
Largest Lead – 25 (70-45, 6 seconds left in the game), USC vs. SIU, 2007
Lead Changes – 16, Seton Hall vs. Miami, 2018
Ties – 12, Washington State vs. San Diego State, 2017/ Seton Hall vs. Miami, 2018
USC's ESPN Events In-season Tournaments
Paycom Wooden Legacy 2007 – 11/22 vs. San Diego, W. 60-50; 11/23 vs. vs. Miami (OH), W 57-53; 11/25 vs. So. Ill., W 70-45
Puerto Rico 2008 11/20 vs. Seton Hall, L 61-63; 11/21 vs. Chattanooga, W 73-46; 11/23 vs. Missouri, L 72-83
Diamond Head 2009 – 12/22 vs. Western Michigan, W 55-51; 12/23 vs. Saint Mary's, W 60-49; 12/25 vs. UNLV, W 67-56
Charleston 2014 – 11/20 vs. Akron, L 46-66; 11/21 vs. Drexel, W 72-70; 11/23 vs. Penn State, L 61-63
Orlando 2015 – 11/26 vs. Wichita State, W 72-69; 11/27 vs. Xavier, L 77-87; 11/29 vs. Monmouth, L 73-83
Diamond Head 2017 – 12/22 vs. Akron, W 84-53; 12/23 vs. Middle Tennessee, W 89-84; 12/25 vs. New Mexico State, W 77-72
Orlando 2019 – 11/28 vs. Fairfield, W 54-47; 11/29 vs. Marquette, L 79-101; 12/1 vs. Harvard, W 77-62
San Diego State's ESPN Events In-season Tournaments
Diamond Head 2012 – D22 vs. San Francisco, W 80-58; D23 vs. Indiana State, W 62-55; D25 vs. Arizona, L 67-68
Paycom Wooden Legacy 2013 – N28 vs. Charleston, W 72-52; N29 vs. Creighton, W 86-80; D1 vs. Marquette, W 67-59
Diamond Head 2016 – D22 vs. Southern Miss, W 66-51; D23 vs. Tulsa, W 82-63; D25 vs. San Francisco, W 62-48
Wooden Legacy 2017 – N23 vs. Sacramento State, W 89-52; N24 vs. Georgia, W 75-68; N26 vs. Washington State, L 86-93
Conference          Won   Lost       Pct.      Paycom Wooden Legacy Participating Schools
Atlantic 10               10        12     45.5% – Charlotte, 2008; Saint Louis, 2011, Xavier, 2012; George Washington, 2013, Dayton, 2016; Saint Joseph's, 2017 & 2021, La Salle, 2018
Big East                   15        16     48.4% – Providence, 2008, 2015 & 2019; W. Va., 2009; DePaul, 2010; Nova, 2011; Creighton & M'quette, 2013, Xavier, 2014, Seton Hall 2018, G'town, 2021
Mountain West       15        10     60.0% – UNLV, 2010; New Mexico, 2011 & 2016; San Diego State, 2013, 2017 & 2021, San Jose State, 2014, Boise State, 2015, Fresno State 2018
Pacific 12                 26        14     65.0% – USC, 2007 & 2021; ASU, 2008 & 2013; UCLA, 2009, 2016, Stanford, 2010; WSU 2011 & 2017, Cal, 2012; Wash., 2014, UA., 2015 & 2019, Utah, 2018