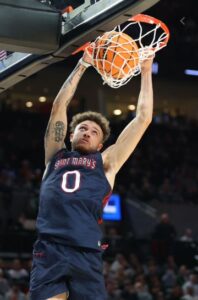 The pre-season polling is starting to come in with 2022 Paycom Wooden Legacy participant Saint Mary's picked to finish second on Gonzaga in the West Coast Conference this year.
The Gaels will play in the Paycom Wooden Legacy on November 23 and 24 with Saint Mary's first opponent being Vanderbilt of the Southeastern Conference.  Fresno State meets Washington at 6:30 p.m. on November 23 followed by the Gaels-Commodore contest at 9 p.m.
All-session tickets for the 2022 Paycom Wooden Legacy are on sale for the in-season collegiate basketball tournament to be played at the Anaheim Arena in the Anaheim Convention Center complex.  All-Session tickets can be purchased on online with tickets ranging from $70 to $100 for the lower bowl premium seating and $40 for the upper bowl general admission seats.  Visit TheWoodenLegacy.com for exclusive offers and tournament updates  Fans can also follow the event on Facebook, Twitter and Instagram.
In addition, the Gaels have two of the 10 players picked to the pre-season WCC all-league team in Logan Johnson and Alex Ducas  The conference's pre-season polling was announced on October 6 as the Gaels received 73 votes to trail only Gonzaga (81) in the projected polls while receiving one first-place vote
Johnson was selected for the Preseason All-WCC team for the second consecutive year after landing postseason honors each of the last two years. Last season, Johnson averaged 11.9 points per game and led the conference with 67 total steals, the second-most in a single season in Saint Mary's history. The Mountain View native also set career-highs in assists per game (2.6) and rebounds per game (4.1) enroute to being named All-WCC Second Team.
Ducas makes his first appearance on the Preseason All-WCC team after the best season of his collegiate career. The senior out of Geraldton, Australia set career-highs with 10.3 points per game, 0.9 assists per game and steals per game, and 29.8 minutes per game. Ducas continues to be the best three-point shooter on the team, leading the team with 67 made three-pointers and was selected to the All-WCC Second Team for the first time in his career.
This season marks the first time since the 2019-20 season that the Gaels have had multiple players land on the Preseason All-WCC team when Jordan Ford and Malik Fitts were chosen before the season.
Only Saint Mary's (2) and Gonzaga (3) have multiple players on the Preseason All-WCC team. Five other schools are represented with one player on the team. San Diego, Loyola Marymount, and Pacific are the three schools without a player represented.
Here is Saint Mary's coach Randy Bennett this past spring with Gonzaga legend Dan Dickau – https://youtu.be/JqxarWk13mk