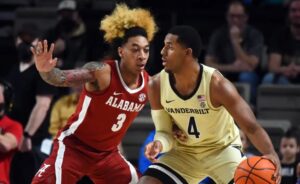 After leading Vanderbilt to its first winning record since the 2016-2017 campaign, Commodore coach Jerry Stackhouse is looking for continued improvement from his squad to build on their 19-17 record last season and advancement to the quarter-finals of the National Invitational Tournament.
The Commodores are one of four schools participating in this year's Paycom Wooden Legacy with Stackhouse's Southeastern Conference team meeting Saint Mary's from the West Coast Conference in the event's second game on November 23 with a 9 p.m. (PT) at the Anaheim Arena.
Fresno State from the Mountain West Conference will play Washington from the Pac-12 Conference in the opening game on November 23 at 6:30 p.m. (PT) with the two winning teams meeting the next night at 9:30 p.m. for the Paycom Wooden Legacy title.
All-session tickets for the 2022 Paycom Wooden Legacy are on sale for the in-season collegiate basketball tournament to be played at the Anaheim Arena in the Anaheim Convention Center complex.  All-Session tickets can be purchased on online with tickets ranging from $70 to $100 for the lower bowl premium seating and $40 for the upper bowl general admission seats.  Visit TheWoodenLegacy.com for exclusive offers and tournament updates  Fans can also follow the event on Facebook, Twitter and Instagram.
"We've seen that improvement," Stackhouse said in a recent article as Vanderbilt is the only SEC program that has improved its NET Ranking – which replaced the RPI as the NCAA's primary ranking tool – for three straight years.   The Commodores have climbed from No. 155 to 142 to 102 to 62.
This validates it," said Stackhouse in the SEC website article. "It's definitely gratifying that the things we're seeing with our eyes are also showing up in the metrics."
As written in the article, "Stackhouse's first signing class is now represented by senior swingman Jordan Wright. Last season's SEC Scholar-Athlete of the Year, Wright is the team's leading returning scorer and rebounder. He lit up Kentucky with 27 points in a close loss in the SEC Tournament after contributing a double-double as the Commodores upset Alabama the day before."
The article ended by noting that "Vanderbilt then won two games in the NIT. That success, Wright said, "provided us with momentum for this season." Stackhouse agreed with this confident statement: "I think we're primed to take that next step and get in the NCAA Tournament."