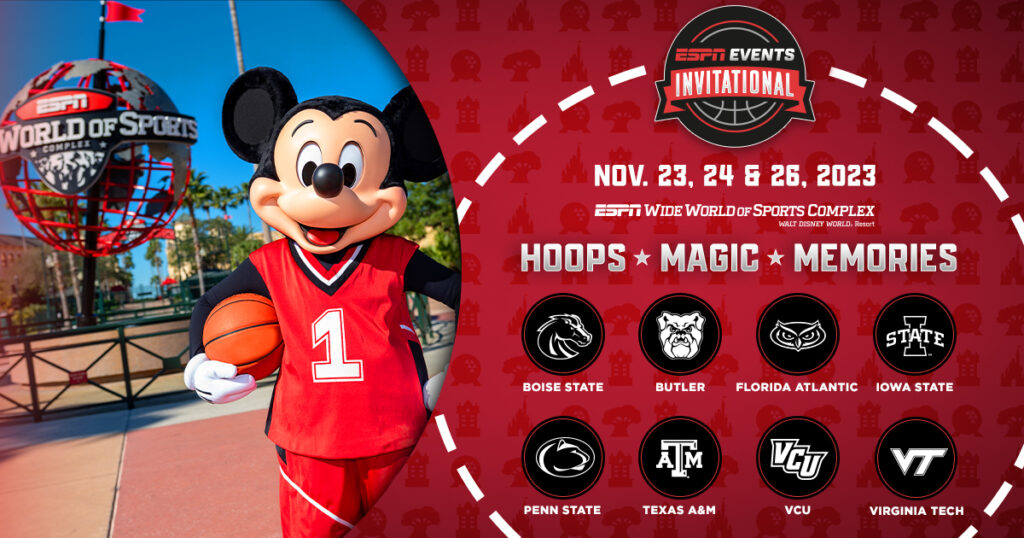 Field Includes Six Teams from 2023 NCAA Tournament
The eight-team field for the 2023 ESPN Events Invitational – to be held Thursday, Nov. 23 through Sunday, Nov. 26 at State Farm Field House at ESPN Wide World of Sports near Orlando, Fla. – will include Boise State, Butler, Florida Atlantic, Iowa State, Penn State, Texas A&M, VCU and Virginia Tech.
This will be the 17th year of the tournament, one of 10 college basketball events on the ESPN Events roster of 32 college athletic competitions.
Field Highlights
Six of the eight teams played in the 2023 NCAA Tournament: FAU (Final Four), Penn State (second round) as well was Boise State, Iowa State, Texas A&M and VCU.
FAU is the first ESPN Events Invitational team coming off a Final Four appearance since Villanova in 2018. The Owls are currently ranked No. 9 in ESPN.com's Way-Too-Early Top 25.
Texas A&M is ranked No. 18 in ESPN.com's Way-Too-Early Top 25.
Virginia Tech played in the 2023 NIT.
Boise State, FAU and VCU are all making their first appearance at the ESPN Events Invitational.
Three schools in the field – Butler (2010 & 2011), FAU (2023) and VCU (2011) – have made Final Four appearances since 2010.
"With six returning NCAA Tournament teams, the ESPN Events Invitational figures to be one of the strongest early-season tournaments in the country," said Clint Overby, Vice President, ESPN Events. "We look forward to hosting all eight teams and their fans at Walt Disney World Resort this Thanksgiving."
"For college basketball fans, there really is no better way to spend Thanksgiving weekend than watching your favorite teams at Walt Disney World Resort," said Faron Kelley, Vice President of Disney Sports. "This is the 17th year we have hosted the ESPN Events Invitational and I have no doubt it will once again be an unforgettable experience for the fans, players and coaches. ESPN Wide World of Sports Complex provides top-tier facilities that, when mixed with the magic of Walt Disney World, make this one of the most unique and rewarding tournaments in college basketball."
"On behalf of Experience Kissimmee and the Kissimmee Sports Commission, we are delighted to be proud sponsors of the 2023 ESPN Events Invitational. We are pleased to welcome eight collegiate basketball teams to Osceola County for this annual competition, providing an excellent opportunity for us to showcase our off-season training facilities. We welcome the players, coaches, families and fans to take advantage of all the top-notch accommodations and attractions that Osceola County has to offer," said Jessica Beers, Executive Director of the Kissimmee Sports Commission.
Oklahoma won the most recent ESPN Events Invitational in 2022. Previous winners include Dayton in 2021 and 2011, Maryland in 2019, Villanova in 2018, West Virginia in 2017, Gonzaga in 2016, 2012 and 2008, Xavier in 2015, Kansas in 2014, Memphis in 2013, Notre Dame in 2010, Florida State in 2009, N.C. State in 2008 and Arkansas in 2007.
ESPN Wide World of Sports Complex has a rich history of hosting world-class nationally televised sporting events. The best athletes in the world from the NBA, NFL, MLB, MLS and more have competed at the facility which features multiple venues capable of hosting a variety of events. Within the last few years, ESPN Wide World of Sports Complex has been used for Major League Baseball Spring Training, the NFL Pro Bowl Experience and the return of the NBA in 2020. The facility and the rest of Walt Disney World Resort connect fans to the excitement in a way no other sports complex can offer.
More information, including travel packages, can be found on the ESPN Events Invitational web site.
About ESPN Events:
ESPN Events, a division of ESPN, owns and operates a portfolio of collegiate sporting events nationwide. In 2023, the 32-event schedule includes four early-season college football kickoff games, 17 college bowl games, 10 college basketball events, and a college softball event, in addition to a new a college gymnastics event coming in 2024. Collectively, these events account for over 400 hours of live programming on ESPN platforms, while reaching 60 million viewers and attracting more than 650,000 annual attendees. Each year, the portfolio of events features more than 20 Division I conferences and hosts over 4,000 participating student-athletes. With satellite offices in more than 10 cities across the country, ESPN Events builds relationships with conferences, schools and local communities, as well as providing unique experiences for teams and fans. For more information, visit the official website, Facebook, Twitter or YouTube pages.
About ESPN Wide World of Sports Complex:
ESPN Wide World of Sports Complex, located at Walt Disney World Resort in Florida, is the premier site for amateur sports in the nation.  The complex hosts more than 100 entertainment and sporting events each year and has accommodated 70 different sports featuring athletes from 70 different countries.  Designed to provide professional, amateur and youth athletes with experiences synonymous with the names Disney and ESPN, the 220-acre facility features multiple competition venues, including 16 baseball/softball fields; a 9,500-seat ballpark; a state-of-the-art indoor arena, 17 multi-purpose outdoor fields for soccer, football and field hockey; three field houses for basketball, volleyball, and other indoor sports; a track & field facility; and a cross country course.  The sports complex also contains a professional production center that produces content for the Disney family of networks and distributes programming globally through its extensive fiber network.  For more information, visit www.disneysportsnews.com for news releases, photos and videos.  Follow us on Twitter at @ESPNWWOS and on Facebook at ESPNWWOS.
About Experience Kissimmee: 
Experience Kissimmee is the official tourism authority for Osceola County, Florida. Located at the heart of Central Florida, Kissimmee is 25 minutes from Orlando International Airport (MCO), minutes from world-famous theme parks and attractions, and nestled in carefully preserved outdoor spaces so visitors can reconnect with nature. Also known as the Vacation Home Capital of the World®, Kissimmee has sprawling resorts with thousands of options ranging from two-bedroom condos to 15-bedroom mansions.
Media Contact: Charley Green at 214-734-8028 or [email protected]