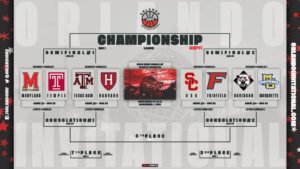 The bracket for the 2019 Orlando Invitational was revealed today. The eight-team tournament will be held Thanksgiving weekend, Thursday, Friday and Sunday, Nov. 28, 29 & Dec. 1, at HP Field House at ESPN Wide World of Sports Complex near Orlando, Fla.
The 2019 field includes NCAA Tournament squads from Marquette, Maryland and Temple along with NIT participants Davidson and Harvard. Some highlights from each team:
Davidson is coming off a 24-10 season and its 17th postseason appearance in 30 years under coach Bob McKillop
Fairfield returns to the Orlando Invitational for the second time, going 1-2 in 2011 with a victory over Arizona State
Harvard has won the Ivy League championship seven times in the last nine years
Marquette has reached the NCAA Tournament twice in the last three years, earning a No. 5 seed in 2019 with 24 wins
Maryland is ranked No. 9 in the most recent ESPN Way Too Early Top 25, after NBA prospects Anthony Cowan, Jr. and Jalen Smith announced they would return to the team
Temple welcomes new head coach Aaron McKie to a team that has reached the postseason four times in the last five years
Texas A&M has made two appearances in the NCAA Sweet 16 in the last four seasons, and is under the directon of first-year head coach Buzz Williams
USC has played in the postseason in three of the last four years
The 2019 Orlando Invitational, a bracket-format tournament, will feature 12 games over the three days. Each team will compete in one game per day, advancing through a bracket-tournament format. The two teams that remain undefeated throughout will face off in a championship match Sunday, Dec. 1.
All games will be broadcast on ESPN, ESPN2, ESPNU or ESPNEWS.
Orlando Invitational
November 28, 29 and December 1
HP Field House (ESPN Wide World of Sports Complex near Orlando, Fla.)
| | | | |
| --- | --- | --- | --- |
| Date | Time (ET) | Matchup/Event | Network |
| Thu, Nov. 28 | 11 a.m. | Maryland vs. Temple | ESPN2 |
|   | 1 p.m. or 1:30 p.m. | Texas A&M vs. Harvard | ESPN or ESPN2 |
|   | 4 p.m. | USC vs. Fairfield | ESPNU |
|   | 6 p.m. or 6:30 p.m. | Davidson vs. Marquette | ESPN2 or ESPNU |
| Fri, Nov. 29 | 11:30 a.m. | Semifinal #1 | ESPN or ESPN2 |
|   | 1:30 p.m. or 2 p.m. | Consolation #1 | ESPN2 or ESPNEWS |
|   | 4 p.m. or 4:30 p.m. | Semifinal #2 | ESPN2 or ESPNU |
|   | 6:30 p.m. or 7 p.m. | Consolation #2 | ESPN2, ESPNU or ESPNEWS |
| Sun, Dec. 1 | 10:30 a.m. | 7th Place Game | ESPNU |
|   | 1 p.m. | Championship | ESPN |
|   | 4 p.m. or 6 p.m. or 6:30 p.m. | Third Place Game | ESPN2 or ESPNU |
|   | 4 p.m. or 6 p.m. or 6:30 p.m. | 5th Place Game | ESPN2 or ESPNU |
Non-Bracketed Games: Fairfield at Maryland (Nov. 19), Temple at USC (Nov. 22)