Cricket Wireless Extends Sponsorship of MEAC/SWAC Challenge Kickoff and Celebration Bowl Thru 2027
---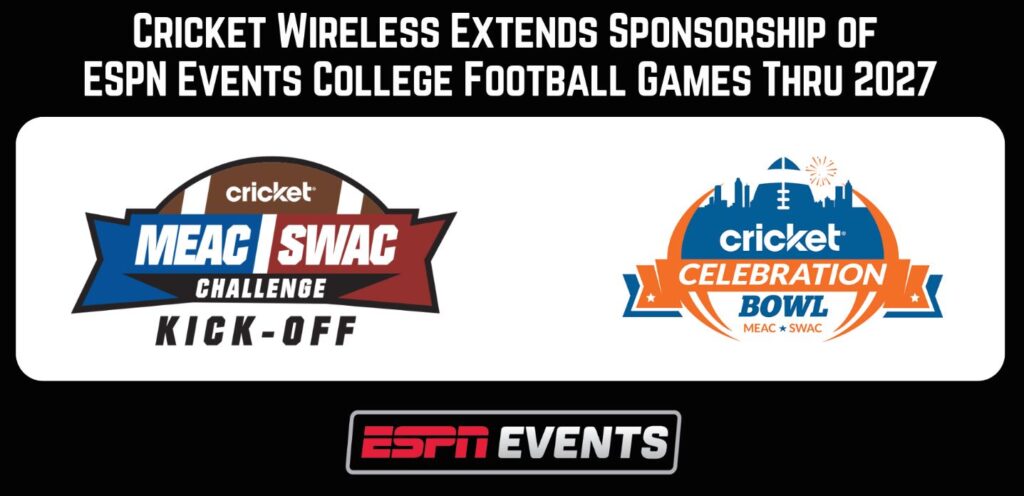 New four-year agreement continues relationship that started with 2018 Celebration Bowl
ESPN Events, a division of ESPN, has announced a four-year sponsorship extension with Cricket Wireless, which will continue as title sponsor of both the MEAC/SWAC Challenge Kickoff and Celebration Bowl college football games. Both events are based in Atlanta and feature programs from Historically Black Colleges and Universities (HBCU).
"We are pleased that Cricket Wireless has extended its title sponsorship of these events, which are so steeped in tradition in the HBCU community," said John Grant, executive director of the MEAC/SWAC Challenge Kickoff and Celebration Bowl. "Having an Atlanta-based partner like Cricket speaks to their desire to support the diversity of sports and the commitment to making a positive impact in their hometown. We look forward to continuing our work together, building and highlighting a culture of excellence."
"Serving as the title sponsor of the MEAC/SWAC Challenge Kickoff and the Celebration Bowl for the past three years has been rewarding on every level," said John Dwyer, President, Cricket Wireless. "The MEAC and SWAC are two of the premier HBCU conferences in the country, with passionate fanbases that have shown up to support their schools. It's been a privilege hosting these bookends to the season in Cricket's hometown of Atlanta, and we're looking forward to building on this tradition for the next four years."
The Cricket MEAC/SWAC Challenge Kickoff – a Week 0 matchup of HBCU football teams from the Mid-Eastern Athletic Conference (MEAC) and the Southwestern Athletic Conference (SWAC) – is played at Georgia State's Center Parc Credit Union Stadium. This year's game features South Carolina State vs. Jackson State on Saturday, Aug. 26 at 7:30 p.m. ET on ABC.
Cricket MEAC/SWAC Challenge Kickoff matchups in future years include: 2024 – Norfolk State vs. Florida A&M; 2025 – North Carolina Central vs. Southern; and 2026 – Alabama A&M vs. Howard.
The Cricket Celebration Bowl, the HBCU national championship game – featuring conference champions from the MEAC and SWAC, is played at Mercedes-Benz Stadium in December each year and typically opens the college football bowl season. This year's game will be played Saturday, Dec. 16 at noon and will be broadcast on ABC.
Information regarding the Cricket MEAC/SWAC Challenge Kickoff and Cricket Celebration Bowl can be found at www.meacswacchallenge.com and www.TheCelebrationBowl.com.
About Cricket Wireless
Cricket is focused on inspiring smiles, one meaningful connection at a time. We offer an easy and high-quality wireless experience on our reliable nationwide network. Our affordable, straightforward service plans include monthly taxes and don't require an annual contract. Our customers also enjoy basic to top-brand phones at affordable prices.
Visit cricketwireless.com to learn more or find a store near you. Stay up-to-date with the Cricket Newsroom, and connect with us on Facebook, Instagram, Twitter and YouTube. Smile. You're on Cricket.
Cricket is a subsidiary of AT&T Inc. © 2023 Cricket Wireless LLC. All rights reserved. Cricket and the Cricket logo are trademarks under license to Cricket Wireless LLC.
About ESPN Events
ESPN Events, a division of ESPN, owns and operates a portfolio of collegiate sporting events nationwide. In 2023, the 33-event schedule includes four early-season college football kickoff games, 17 college bowl games, nine college basketball events, a college softball event and the inaugural Band of the Year National Championship, in addition to a new college gymnastics event coming in 2024. Collectively, these events account for over 400 hours of live programming on ESPN platforms, while reaching 60 million viewers and attracting more than 650,000 annual attendees. Each year, the portfolio of events features more than 20 Division I conferences and hosts over 4,000 participating student-athletes. With satellite offices in more than 10 cities across the country, ESPN Events builds relationships with conferences, schools and local communities, as well as providing unique experiences for teams and fans.
For more information, visit the official website, Facebook, Twitter or YouTube pages.
-30-