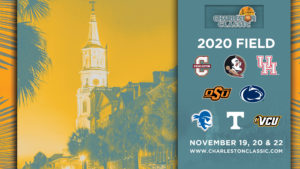 The 2020 Charleston Classic to be held November 19, 20 and 22, at TD Arena in Charleston, S.C.,will include College of Charleston, Florida State, Houston, Oklahoma State, Penn State, Seton Hall, Tennessee and VCU.
Seven of the eight teams in the field are currently ranked in Joe Lunardi's 2019-20 Bracketology- Seton Hall (No. 4 seed), VCU (No. 6 seed), Florida State (No. 7 seed), Tennessee (No. 8 seed), Houston (No. 8 seed), Penn State (No. 11 seed) and Oklahoma State (No. 11 seed).
This family-friendly tournament offers the teams a week of practice, play and experiences in and around historic Charleston.
Fans can secure up to a $25 discount on all-tournament tickets now by signing up for an exclusive discounted pre-sale on www.charlestonclassic.com. Those who sign up between now and Sunday, November 24 will receive first access to purchase tickets at a discount before they go on sale to the general public in July.
Additional information, including travel packages, can be found at www.charlestonclassic.com.