Jumpman Invitational Presented by Novant Health Announces Lineup of Games to be Featured on ESPN Networks
---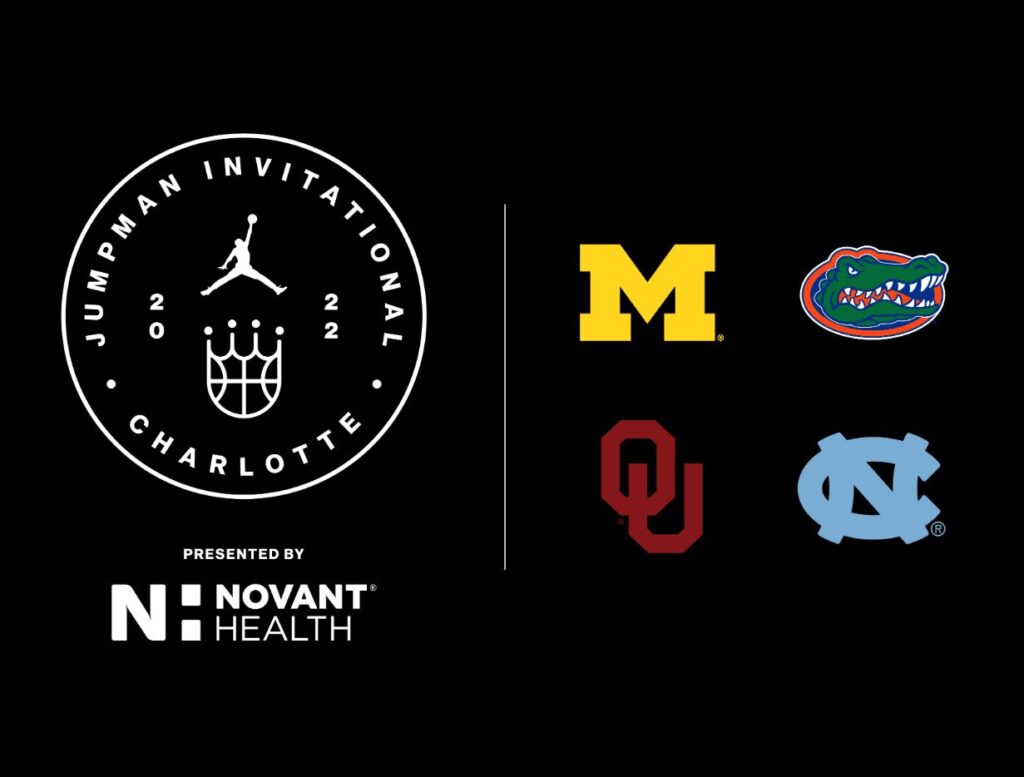 The Charlotte Sports Foundation (CSF) and ESPN Events today announced the full schedule of games for the inaugural Jumpman Invitational presented by Novant Health. Taking place December 20-21, 2022 in Charlotte, N.C., this event will feature both the men's and women's teams from the original four schools to sign partnership deals with Jordan Brand in both basketball and football: Florida, Michigan, North Carolina and Oklahoma.
All games will take place at Spectrum Center in uptown Charlotte in partnership with Hornets Sports & Entertainment and will be shown on ESPN networks.
"With six of the eight teams competing in last year's NCAA tournaments and their programs' collective storied history we believe the Jumpman Invitational presented by Novant Health will be a premier basketball event not just this year, but in years to come," said Danny Morrison, executive director of CSF. "We look forward to welcoming the players, coaches and fans to Charlotte for what will be a first-class experience."
Schedule:
December 20
• 7:00 PM ET – North Carolina vs. Michigan (women)
• 9:30 PM ET – Oklahoma vs. Florida (men)
December 21
• 7:00 PM ET – North Carolina vs. Michigan (men)
• 9:30 PM ET – Oklahoma vs. Florida (women)
"We look forward to working with the Charlotte Sports Foundation and our sponsors in welcoming these four men's and women's programs to Charlotte. Our inaugural year will lay a solid foundation in which we can grow the event and give back to the community," said Clint Overby, vice president, ESPN Events.
Tickets for the event will be available to the public in late September. For more information on the events and to sign up for notifications visit JumpmanInvitational.com.
Charlotte Sports Foundation
The mission of the Charlotte Sports Foundation (CSF), a 501(c)(3), is to provide leadership for sports- based initiatives that result in a positive impact on the economy and quality of life in the Charlotte region. CSF was created in the spring of 2013 as a combined entity of Charlotte's two primary sports development groups, Charlotte Collegiate Football and the Charlotte Regional Sports Commission. Its origins can be traced to the vision of Charlotte civic leaders after the very successful hosting of the 1994 NCAA Men's Final Four.
The Foundation also provides support for recruitment and operation of other local sporting events, and spearheads Charlotte's continued growth as a preferred host for premier national and regional sporting events. The events include college basketball's Jumpman Invitational, college football's Duke's Mayo Bowl, Subway ACC Football Championship Game and Duke's Mayo Classic.
The Board of Directors that guides the Charlotte Sports Foundation boasts a dynamic roster of top Charlotte civic and business leaders. Please visit www.CharlotteSports.org for more information.
ESPN Events
ESPN Events, a division of ESPN, owns and operates a portfolio of collegiate sporting events nationwide. In 2022, the 32-event schedule includes three early-season college football kickoff games, 17 college bowl games, 11 college basketball events, and a college softball event, which account for approximately 400 hours of live programming, while reaching nearly 64 million viewers and attracting over 800,000 annual attendees. With satellite offices in more than 10 cities across the country, ESPN Events builds relationships with conferences, schools and local communities, as well as providing unique experiences for teams and fans.
For more information, visit the official website, Facebook, Twitter or YouTube pages.