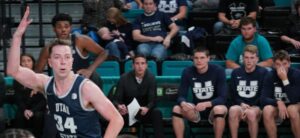 CONWAY, S.C. – As a young child growing up in Moore, Okla., current Utah State forward Justin Bean was surrounded by all things Sooners. The University of Oklahoma campus was a mere 10 miles away, and the OU football and basketball teams were fan favorites nearly everywhere he went.
So it was appropriate that on Sunday, Bean capped an amazing three-game performance in the Myrtle Beach Invitational by scoring 24 points and grabbing a tournament-record 19 rebounds against none other than the Oklahoma Sooners, helping lead the Aggies to a 73-70 victory in the MBI championship game.
That game gave Bean eye-popping stats of 24.7 points and 14 rebounds per game in the MBI, a showing that earned him the John T. Rhodes Most Valuable Player award. Not bad for a player who had to walk-on to Utah State four years ago before earning a scholarship.
"This is one of the most iconic moments in my career at Utah State," Bean said. "And I don't take those moments for granted. I put in a lot of work in the offseason, and my confidence stems from a great coaching staff that has helped me become a completely different player. So I'm going to soak this in as much as I can."
Bean was so dominant on the boards during the MBI that by halftime of the championship game he already had broken the record for rebounds in the tournament.
"He was like Wilt Chamberlin. It's crazy," Utah State coach Ryan Odom said. "The first thing you notice about Justin is his motor and his willingness to go after the ball and put his body in there. He's not afraid to go for it, and he has his coach's blessing to do that. I'm talking about stretching the floor and driving the ball and being a go-to player."
Oklahoma coach Porter Moser also had high praise for Bean's playing ability, especially his knack for hauling in rebounds.
"There are certain guys who just know where the ball is coming off the rim," Moser said. "I can't even put a price tag on the value he had. Unbelievably valuable player, and that was the key to the game."