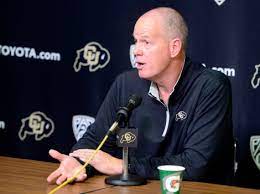 The fourth annual Myrtle Beach Invitational tips off on Nov. 17 with a matchup between two teams led by veteran head coaches who each have more than 15 years of experience in that role.
The big difference is that Colorado's Tad Boyle is starting his 13th season leading the Buffalos and knows full well what the program is all about, while Frank Boyle is in his first season at UMass after spending time at Kansas State and South Carolina.
"I have to say thank you to the folks at UMass for giving me an opportunity when I was down in the dirt," said Martin, who was let go by South Carolina after last season following 10 years at the school. "I'm having the time of my life coaching these kids."
Martin got his first look at his new players in action during UMass' 94-68 exhibition game victory over Division II American International College on Nov. 1. Five players scored in double figures for the Minutemen, led by former Long Island University forward Isaac Kante with 15 points and 10 rebounds, and former Louisville forward Matt Cross with 15 points, eight boards and five assists.
Martin is a defensive-oriented coach, so it appears that UMass might tone down its tendency to fire up the 3-pointers this season. After attempting an average of nearly 26 treys per game during last season's 15-17 campaign, the Minutemen went 7-of-17 from long range against AIC.
While Martin is still learning his team, Boyle already knows the potential he has available from several of his players. Returning juniors Tristan da Silva, Nique Clifford and Luke O'Brien, and sophomore KJ Simpson were all part of last season's 21-12 team.
Colorado opened the preseason with a 72-61 exhibition game victory over fellow FBS team Nebraska. Simpson had 17 points and three assists, Clifford contributed nine points and eight rebounds, da Silva added nine points and three boards, and O'Brien hauled in eight rebounds (five offensive). Among the newcomers, junior college transfer J'Vonne Hadley stood out with 11 points and eight rebounds.
"The energy was good and the guys were ready to play," Boyle said. "Once our guys settle in and feel a little bit more comfortable and confident out there, I like this team."
Eight teams will participate in the Myrtle Beach Invitational, to be held Nov. 17-20 at the HTC Center on the campus of Coastal Carolina University. In the rest of the first-round action, Murray State will take on Texas A&M, Boise State will play Charlotte, and Loyola-Chicago will face Tulsa. All 12 games in the tournament will be broadcast over ESPN's family of networks.
All-session tickets are available and range from $130 to $145.  Single-session tickets will go on sale on November 14.