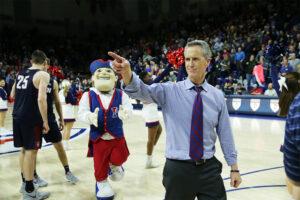 Early-season tournaments such as the Myrtle Beach Invitational are a great way for head coaches to get to know their team better. That familiarity is needed for both Penn and Utah State, who meet at 2 p.m. Eastern Time on Thursday in the opening round of the MBI.
Utah State (1-1) is still working through the transition of bringing in a new head coach. Ryan Odom took over this year after spending five seasons at the University of Maryland, Baltimore County, where he posted a 97-60 record that included the first-ever victory in the NCAA Tournament by a No. 16 seed over a No. 1 seed when the Retrievers beat Virginia in 2018.
Meanwhile, the Quakers (0-2) remain in the early stages of their own introductory process. But in their case, it's not the head coach who is new. It's simply the act of playing actual games again. The Ivy League was one of the few conferences that canceled athletic competition for the 2020-21 season due to COVID-19, meaning Penn went 613 days between games.
After waiting so long to play again, Penn is jumping right back into action this year with eight games in the first two weeks of the season. The Quakers return has been a bit shaky so far, as they opened the season with a 105-70 loss to Florida State followed by an 87-66 setback to George Mason.
"Maybe it has something to do with such a long layoff, and it being so many guys' first college game," Penn Coach Steve Donahue said. "With guys who haven't played in this environment against a good team, it's been difficult each possession. Simple things that happen in a game, you can't simulate in practice."
Utah State also got off to a rough start this season, losing Odom's debut 72-69 to UC Davis, as the Aggies were unable to overcome 11 missed free throws and 16 turnovers. But they rebounded three days later with an 85-74 victory over Richmond.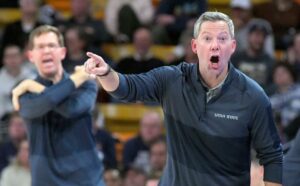 "The great thing for us is we have a group of guys who come in every day and ask what's next," Odom said. "They are all dialed in and focused on how are we going to get better today. That's our mentality. We want to go 1-0 each day we come into work and try to get better."