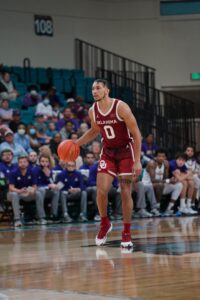 CONWAY, S.C. (Nov. 18) – The Oklahoma Sooners shot the ball well enough to blow out East Carolina, but they committed too many turnovers. The ECU Pirates shot the ball well enough to upset Oklahoma, but they were beaten on the boards and gave up too many easy baskets.
In the end, the Sooners prevailed 79-74 in Thursday's opening round of the Myrtle Beach Invitational, though it was a game that left both head coaches feeling a bit frustrated.
The Sooners (3-0) shredded the net in the first half, sinking 65 percent of their shots from the field (15-of-23) and 44 percent of their 3-pointers (4-of-9). Yet thanks to 10 turnovers, seven on ECU steals, Oklahoma held only a 39-38 halftime lead.
"We gave away possessions," Oklahoma coach Porter Moser said. "It was a combination of turnovers being forced by their length and athleticism, and then us sometimes not being as tough as we need to be."
Conversely, the Pirates (3-1) turned in what normally would be a game-winning shooting performance, sinking 57 percent of their shots in the first half (16-of-28) and 53 percent for the game (27-of-51). But ECU was outrebounded 31-23, managed a total of only four offensive boards, and trailed for the entire second half even though they kept the game close.
"At the start of the game, we gave up way too many easy baskets," East Carolina coach Joe Dooley. "On ball-screen situations and rolls, we got caught on the wrong side, something we've worked a lot on. That being said, they put us in some bad spots … We've got to recognize and guard those."
Still, both coaches also saw some positives in the game. The Sooners had amazingly balanced scoring, with all five starters scoring between 13 and 10 points. Moser called point guard Jordan Goldwire (13 points and six assists) a "calming influence," and he was pleased with the way his team prevented ECU from ever drawing closer than three points down the stretch.
"We hadn't been in a close game yet, so this was good for us to grow," Moser said. "Give East Carolina credit. Their length bothered us in a lot of areas, and they were resilient making shots at the end. We didn't have our best stuff. We had to find a way to make some plays, and we did just enough to win."
Meanwhile, the Pirates nearly did enough to win, and they had several solid individual performances. Tristen Newton led ECU with 18 points, and Brandon Suggs had 14 points, six assists and three steals.
"We did a good job of fighting back," Dooley said. "There are some positives we can build on. There are things we know we can do better. There are some correctable things we have to make sure we can clean up."
Indiana State 77, Old Dominion 36: Indiana State used a dominating defensive performance to hold Old Dominion to 21.6 percent shooting and earn a spot in the MBI semifinals against Oklahoma.
ISU (3-1) led 24-14 with less than six minutes left in the first half, then scored 19 consecutive points on the way to a 43-16 halftime advantage.
It was more of the same to start the second half, as ODU (2-2) managed only two points over the first eight minutes, allowing the Sycamores to build a 44-point lead at 62-18.
Cooper Neese scored a game-high 17 points, Zach Hobbs added 15, and Cameron Henry had 14 points, 13 rebounds and six assists for ISU.