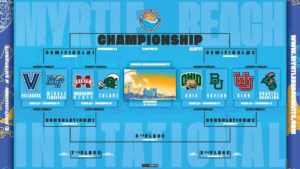 The matchups for the second annual Myrtle Beach Invitational have been released. The event, hosted by the American Athletic Conference, will be played November 21, 22 and 24 at the HTC Center in Conway, S. C.
The 2019 Myrtle Beach Invitational showcases 2019 postseason participants Baylor (Big 12 Conference), Mississippi State (SEC), Villanova (BIG EAST) and host Coastal Carolina (Sun Belt). The three-day bracketed tournament will also feature with Middle Tennessee (Conference USA), Ohio (Mid-American), Tulane (American Athletic) and Utah (Pac-12).
Villanova, which has participated in the NCAA championships 14 of the past 15 seasons with national titles in 1985, 2016 and 2018, headlines the 2019 Myrtle Beach Invitational field. The Wildcats have captured the last three BIG EAST titles.
Baylor and Mississippi State also earned at-large bids to the 2019 NCAA tournament. Coastal Carolina, whose HTC Center is hosting an in-season tournament for the third-straight year, also competed in the post-season with an appearance in the 2019 College Basketball Invitational.
UCF from the American Athletic Conference captured the title at the inaugural Myrtle Beach Invitational. The HTC Center also hosted the 2017 Puerto Rico Tipoff when the event was moved to the South Carolina coastal resort due to Hurricane Maria.
Owned and operated by ESPN, all 12 games of the 2019 Myrtle Beach Invitational will be televised on ESPN2, ESPNU, or ESPNEWS. All times are listed in Eastern Standard Time.
Thursday, November 21
• Game 1 – Villanova vs. Middle Tennessee, 11:30 a.m., ESPN2/ESPNU
• Game 2 – Mississippi State vs. Tulane, 1:30 or 2 p.m., ESPN2/ESPNU
• Game 3 – Ohio vs. Baylor, 4:30 p.m. ESPN2
• Game 4 – Utah vs. Coastal Carolina 7 p.m., ESPNU/ESPNews
Friday, November 22
• Game 5 – Villanova/Middle Tennessee loser vs. Mississippi State/Tulane loser, 12 p.m., ESPN2/ESPNU
• Game 6 – Villanova/Middle Tennessee winner vs. Mississippi State/Tulane winner, 2 or 2:30 p.m., ESPN2/ESPNU
• Game 7 – Ohio/Baylor winner vs. Utah/Coastal Carolina winner, 4:30 or 5 p.m., ESPN2/ESPNU
• Game 8 – Ohio/Baylor loser vs. Utah/Coastal Carolina loser, 7 or 7:30 p.m., ESPNU
Sunday, November 24
• Game 9 – Game 5 and Game 8 winners, 10:30 a.m. or 1 p.m., ESPN2/ESPNU
• Game 10 – Game 6 and Game 7 losers, 10:30 a.m. or 1 p.m., ESPN2/ESPNU
• Game 11, Championship – Game 6 and Game 7 winners, 5 p.m., ESPN
• Game 12 – Game 5 and Game 8 losers, 7:30 p.m., ESPNews