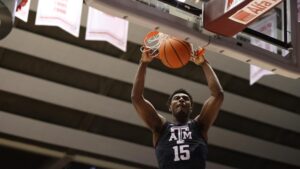 It will be experience vs. newcomers when Texas A&M takes on Murray State on Nov. 17 in the opening round of the Myrtle Beach Invitational. And the difference between the two was evident in both teams' season-openers on Monday.
The Aggies entered this season with what has become a rarity in modern college basketball: a team filled with returning starters. Seven A&M players started at least 10 games last season, including three with more than 20 starts. Tyrece Radford started all 40 games, and Henry Coleman III was in the opening lineup 36 times.
That experience was on full display in the Aggies' 87-54 victory over UL Monroe. Wade Taylor IV, who played in all 40 games last season and started 14 times, sank four 3-pointers and scored 18 points, and Coleman finished with 14 points, seven rebounds and four assists.
The most impressive stat came from 3-point range, where the Aggies went 12-of-23 (46.2 percent) while holding ULM to 2-for-20 (10 percent).
"Our adjustments and running our defense for a second year, you could see that tonight," A&M coach Buzz Williams said after the game. "Some of the things we are doing on offense fit our personnel, which allows us to play at a better pace. The depth of our team should be a positive, and in time the versatility in how we can mix and match could be really good for us."
Meanwhile, Murray State has a roster filled with new faces, including the head coach. Sort of. Steve Prohm took over as the Racers head coach in late March after Matt McMahon left for LSU. But Prohm isn't exactly new to the program, having served as the team's head coach from 2011 to 2015 before spending six seasons at Iowa State.
During his initial stint at Murray State, Prohm posted a 104-29 record with two Ohio Valley Conference titles. It might take some time for the Racers to return to those lofty heights, however, as this season's team features 12 newcomers on the 14-player roster.
So it wasn't surprising that the Racers lost their opener to the Saint Louis Billikens 91-68. Murray State kept it relatively close into the second half, trailing by 11 points with 10 minutes left, before fading down the stretch. Jamari Smith led the team with 19 points (on 6-of-11 shooting) and five rebounds, and Rob Perry added 14 points.
"There is no storybook start," Prohm said after the game. We had a couple of minutes where we played good basketball, but we have to understand that there is a process to this and there are going to be growing pains along the way, and that's part of it. … We have some pieces, no question about it, but we need to put it together, and the pieces need to start understanding what it takes."