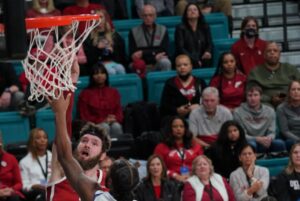 CONWAY, S.C. (Nov. 19) – The Oklahoma Sooners waited until later to kick things into high gear. Once they did, they swept away Indiana State 87-63, earning a spot in Sunday's championship game of the Myrtle Beach Invitational.
The Sooners will play Utah State at 3 p.m. Sunday for the MBI title. The game will be broadcast on ESPN2.
Indiana State (3-2) kept it close into the second half and trailed Oklahoma (4-0) only 47-41. Then the Sooners suddenly took off, embarking on a back-breaking 23-4 run to build a 70-45 lead with eight minutes left.
"Early in the game, we'd have a run and then they'd have a run, but that didn't affect us," Oklahoma coach Porter Moser said. "Sometimes if you have an immature team, those runs can affect you. I liked how we came right back."
Even though the Sooners sank 56 percent of their shots in the second half, Moser credited his team's defense with sparking the game-clinching romp. The Sycamores missed six consecutive shots during that span and went 4-for-16 overall down the stretch before making a few baskets in the final two minutes once the game was well decided.
"It was definitely the defense," Moser said when asked what the key was in the second half. "The way (the Sycamores) move the ball, you have to be really on top of your (defensive) switches, and I was pleased with the way we handled that."
Indiana State coach Josh Schertz, on the other hand, was stunned at his team's second-half collapse.
"I'm really proud of our guys for the first 25 minutes of this game. We were hanging in there," Schertz said. "And then for whatever reason, things snowballed on us. I don't know if it was fatigue or what, but the last 15 minutes was very disappointing on our part.
"We gave up transition baskets and had poor shot selection and gave up offensive rebounds. Those things were occurring at a pretty rapid rate, and we couldn't stop it. If you do that against a good team, they're going to take advantage and crush you, and Oklahoma certainly did that. I can deal with losing, but I can't deal with what happened in the last 15 minutes."
Oklahoma forward Tanner Groves paced the Sooners with 24 points on 10-of-15 shooting and eight rebounds, and Jordan Goldwire added 14 points. As a team, the Sooners tallied 20 assists and outrebounded ISU 42-28.
Cameron Henry had 25 points, eight rebounds, four assists and four steals for Indiana State. But the rest of the team went a combined 14-of-38 from the field, and the Sycamores were only 6-of-27 from 3-point range.
ECU defeats ODU 73-60 for a spot in the MBI fifth-place game
East Carolina jumped out to a 7-0 lead and never trailed in defeating Old Dominion 73-60 in Friday's second round of the Myrtle Beach Invitational.
With the victory, ECU (4-1) advances to play Davidson in Sunday's fifth-place game. ODU (2-3) will take on Penn for seventh-place.
The Pirates led by as many as 17 points in the first half before ODU rallied and closed to 57-52 with still eight minutes remaining. But Tristen Newton helped secure the victory for ECU by scoring 14 of his game-high 18 points in the second half.