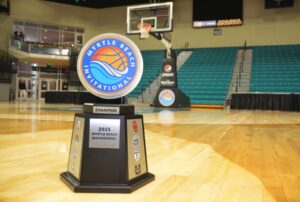 CONWAY, S.C. (Nov. 20) – While the madness of March is the ultimate long-range goal in college basketball, there are always important moments along the way, especially when it come to that rare opportunity to play for some sort of championship.
Oklahoma (4-0) and Utah State (3-1) receive that chance on Sunday when they meet for the championship of the Myrtle Beach Invitational. Tipoff is set for 3 p.m. Eastern Time and the game will be broadcast on ESPN2.
"I know everyone always wants to talk about March, but we're talking about what's right in front of us," Oklahoma coach Porter Moser said after his Sooners defeated Indiana State 87-63 on Friday to advance to the title game. "We came here to win this thing, and now we have a chance to do that."
Moser knows firsthand the value of a team bonding together to hoist a championship trophy. In 2015, his Loyola-Chicago squad won the 16-team College Basketball Invitational. Three years later, several freshmen from that 2015 team formed the core of the Ramblers' Final Four run.
"You want to get guys in the (tournament) mentality of win-and-advance. You want to draw on that," Moser said. "We're definitely going to talk about that (before Sunday's game)."
The Aggies feel the same way. Utah State was scheduled to be in the MBI a year ago before it was canceled because of the pandemic. Now they have a chance to win a championship that literally has been a year in the making.
"In college basketball, having the opportunity to play for a championship is what you want," Utah State coach Ryan Odom said. "You want to play in these big games that mean something. There has to be a sense of gratitude and thankfulness to play in this game."
Or as Utah State junior guard Rylan Jones put it, "It's very cool as a team that we get to play for a championship five games into the season."
Jones certainly is one of the reasons the Aggies are in this position after averaging 20 points, four rebounds and four assists in their two MBI victories. But senior forward Justin Bean has had the biggest tourney impact, averaging 25 points, 11.5 rebounds and 3.5 assists.
Oklahoma counters with senior forward Tanner Groves (18 points, 7 rebounds per game in the MBI) and senior guard Jordan Goldwire (13.5 points and 4 assists per game). Groves led the Sooners into the championship by scoring 24 points on 10-of-15 shooting against Indiana State.
There is a good chance one of those four will be the tournament's Most Valuable Player. The MVP Award has been named this year in honor of former Myrtle Beach mayor John T. Rhodes, who passed way this past January.
Rhodes was knowns as the "Father of Sports Tourism" for the Myrtle Beach region because of the way he used sports to generate economic development and improve the lives of the local citizens, including through the creation of the successful Beach Ball Classic high school basketball tournament.
Three other games will take place Sunday in the final round of the 2021 Myrtle Beach Invitational. Old Dominion will play Penn at 12:30 p.m. ET in the seventh-place game, Davidson will take on East Carolina at 6 p.m. ET for fifth place, and Indiana State will meet New Mexico State at 8:30 p.m. ET for third.