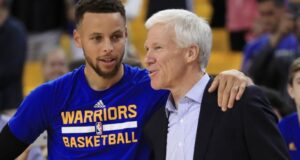 CONWAY, S.C. (November 17) – Davidson's trip from North Carolina to South Carolina for the Myrtle Beach Invitational was preceded by a stopover in California, where the Wildcats lost to the University of San Francisco 65-60 last Saturday.
But that cross-country excursion was far from a disappointment for Davidson coach Bob McKillop and his players. That's because the night before their game against USF, the Wildcats were able to enjoy a performance by the school's most famous athletic alum, Golden State Warriors guard Steph Curry.
With the current Davidson squad sitting in the stands at the Chase Center, Curry turned in one of his typical hot-shooting games, going 15-of-24 from the field and 9-of-17 from 3-point range. His 40 points led the Warriors to a 119-93 victory over the Chicago Bulls, and helped give the Wildcats a lasting memory from their trip despite the loss.
"It was magical," McKillop said Wednesday before the Wildcats began a practice session for the MBI. "We watched Steph play so magnificently on that court, and then anytime we were in the Chase Center either for his game or ours, the Warrior people treated us like we were Steph's family. It was unbelievable."