With the tipoff for the Myrtle Beach Invitational in 30 days, the early polling has started with 2022 participant Texas A&M leading the way with the Aggies listed 26th in the ASSOCIATED PRESS pre-season poll.
The Myrtle Beach Invitational will be played November 17, 18 and 20 at the HTC Center on the campus of Coastal Carolina University in Conway, S. C.  All-seasons tickets are available and range from $130 to $145.  Single session sideline seating will go on sale November 13 and costs $50 per seat.  Joining Texas A&M in the field are Boise State, Charlotte, Colorado, Loyola Chicago, Murray State, Tulsa and UMass.
With A&M entering its fourth season under head coach and 2020 AP SEC Coach of the Year Buzz Williams, the Aggies are coming off the 2021-2022 campaign where the school won 27 games for the third time in program history.
The Aggies were victorious in 11 of their last 13 games last year by reaching the SEC Tournament Championship game and the NIT finale.  At the SEC, Texas A&M defeated #4 Auburn and #15 Arkansas before losing to #9 Tennessee in the title contest.
In the NIT, Williams' crew posted wins over Alcorn State, Oregon, Wake Forest and Washington State to reach the Madison Square Garden finale where A&M dropped a 73-72 decision to Xavier.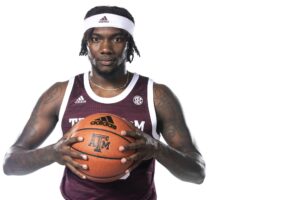 Texas A&M has nine lettermen returning from last year's team, including seven that had double-digit starts. Leading the way is Tyrece "Boots" Radford, who started all 40 games in 2021-2022 after transferring from Virginia Tech.
A 6-2 senior guard, Radford averaged 10.9 points a game last season while leading the team in minutes played (30.1 per game), three-point shooting (47 for 117, 40.2 percent) and total rebounds (249, 6.2 average).
In other pre-season polling for Myrtle Beach Invitational participants, Loyola Chicago and UMass were picked fourth and eighth respectively in the Atlantic 10 rankings. The Minutemen's Noah Fernandes and the Ramblers' Braden Norris received pre-season all-league recognition.
A 5-1l senior guard, Fernandes led UMass in scoring (14.9 points per game), assists (5.3) and steals (40) last season.  Norris is a 6-0 senior guard and scored 10.4 points a game during the 2021-2022 campaign with 3.9 assists per contest.
Missouri Valley Conference newcomer Murray State was picked 10th last month by Blue Ribbon Yearbook.  The Racer's Rod Perry, a 6-4 guard and Stetson transfer, was picked as the Valley's newcomer of the year.
In the American Athletic Conference Preseason Coaches' Poll, Tulsa was picked 10th as the Golden Hurricane is led by Eric Konkol, who is one of three new coaches competing in this season's Myrtle Beach Invitational.  Konkol previously coached seven seasons at Louisiana Tech with a 153-75 record highlighted by six 20-plus wins campaigns.
Frank Martin is the new coach at UMass and he will be returning to Palmetto State after coaching at the University of South Carolina for 10 seasons and leading the Gamecocks to the 2017 final four.
Steve Prohm is the new Murray State coach as previously led the school's men's hoop fortunes for four seasons (2011-2015) with a 104-29 record and three post-season appearances.