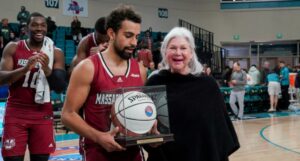 CONWAY, S.C. (Nov. 20, 2022) – After averaging 15 points and 3.3 assists over three tournament games, hitting a last-second game-winning 3-pointer in the semifinals, continually providing shut-down defense, and winning the 2022 Myrtle Beach Invitational MVP Award, UMass guard Noah Fernandes turned in his greatest accomplishment of the entire trip.
He made head coach Frank Martin smile.
As Fernandes walked off the court with his MVP trophy in hand, Martin came over and draped his arm across the senior's shoulders. Then Martin – the man who spends nearly the entirety of every game screaming and stomping and acting as if he is genuinely miserable – let a wide grin cross his face. And Fernandes did the same.
"He's so serious, so passionate about the game," Fernandes said moments after helping lead the Minutemen to a 60-54 victory over Charlotte for the MBI tournament title. "So when he smiles about things, I appreciate it.
"You like to have that effect on people, to make them smile. As a team, we all made him smile. And hopefully we can keep making him smile."
Martin usually has plenty to smile about whenever he watches Fernandes play. Even in Sunday's championship game, when Fernandes' numbers were a modest nine points and two assists, he still made key plays at key moments, and never let up on the defensive end.
"He's a gritty dude, man," Martin said. "Everybody talks about his offense, but he guards teams' point guards and drives them crazy. The reason our defense is good is because it starts with him.
"He's just a winner. I saw Noah play a lot in high school, and I was always amazed at how he controlled games that he played in."
Charlotte coach Ron Sanchez also had plenty of praise for Fernandes. He pointed out that while Fernandes had only two rebounds in the game, one of them was a crucial offensive board with two minutes to play when the 49ers were trying to mount a late comeback.
"He's their engine. He makes them go," Sanchez said. "He got their big guys going early, feeds the ball to the post at the right time, and when they need him to make a big play he does. He makes game-winning plays, and he did that today."
Which is why Fernandes was named the tournament MVP, an honor he said means a lot to him.
"When you work for things and accomplish things, you always want more and more," Fernandes said. "But sometimes you have to take a step back and look at what you've done. This is one of those times."