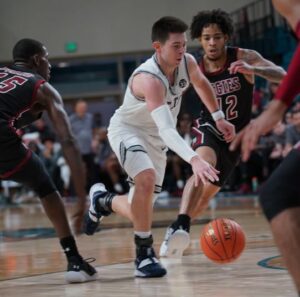 CONWAY, S.C. (Nov. 19) – In a game featuring two performances that were as opposite as the final score, Utah State defeated New Mexico State 85-58 on Friday in the second round of the Myrtle Beach Invitational. The victory sends Utah State into Sunday's championship game.
Utah State (3-1) sank 56.4 percent of its shots from the field, while NMSU (3-1) was a dismal 21 percent in the first half (5-of-24) and 35 percent for the game. Utah State seemingly hit everything during a furious first half, including a symbolic shot to NMSU.
"We got hit in the face. It felt like Mike Tyson back in the day got us pretty good," NMSU coach Chris Jans said. "I knew we were going to fall down at some point (this season). I just didn't realize it was going to be this hard of a fall."
The fall was hard and fast. Utah State scored 13 consecutive points to take an early 20-7 lead, and just kept pulling away from there. The lead was 32-13 with six minutes left in the first half and 41-16 at halftime, then was extended to as many as 40 points (77-37) in the second half.
"We beat an excellent New Mexico State team," Utah State coach Ryan Odom said. "It wasn't their day today, and I think our team had a lot to do with that. Our guys set the tone early. They were determined to play smart and tough and meet their physicality."
Utah State guard Rylan Jones made five 3-pointers and finished with 19 points on 7-of-8 shooting, while Justin Bean scored 17 points on 8-of-12 shooting and grabbed seven rebounds. As a team, Utah State made nearly half its 3-point attempts (14-of-29).
"We executed our game plan and wanted to play smart and tough, which we did from the tip." Jones said. "We're a well-rounded team. Our starting five are five guys who can shoot, pass and dribble, so that's always a matchup (problem) for opponents."
The stats weren't nearly as positive for NMSU. In addition to the disparity in shooting percentages, Utah State outscored NMSU in the paint 28-10, and in fastbreak points 15-0. Take away a 3-for-6 shooting performance by Sir'Jabari Rice, and the rest of NMSU's starting lineup was a combined 6-of-22 from the field.
And in perhaps the most discouraging stat for NMSU, at halftime the team had nearly twice as many turnovers (nine) as made baskets (five).
"We made the first basket in the game, then it went south in a hurry," Jans said. "I don't remember being beat like that at halftime. It was a pretty depressing feeling, and it's not one that I'd like to revisit soon."
Davidson uses big early lead to outpace Penn 72-60
The Davidson Wildcats roared out to a 16-1 lead, then held off a Penn comeback attempt to advance to Sunday's fifth-place game.
Davidson (3-2) started the game 7-of-11 from the field while the Quakers (2-5) missed eight of their first nine shots. Penn battled back to tie the game 29-29 just before halftime, and trailed by only two early in the second half. But the Wildcats scored 10 consecutive points to build a 48-36 lead, and they maintained at least an eight-point advantage the rest of the way.
Davidson forward Sam Mennenga was 7-of-10 shooting and scored a game-high 17 points, and Luka Brajkovic had 14 points and 11 rebounds. Jordan Dingle led Penn with 13 points.