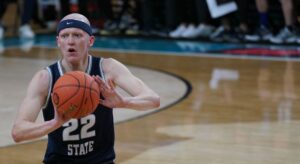 CONWAY, S.C. (Nov. 21) – Justin Bean was unquestionably the John T. Rhodes MVP for Utah State throughout the 2021 Myrtle Beach Invitational. But teammate Brock Miller was the MVP when it mattered the most.
Bean scored 24 points and hauled down a tournament record 19 rebounds – breaking the mark he had set three days earlier in the opening round – to lead Utah State to a thrilling 73-70 victory over Oklahoma in Sunday's MBI championship game.
Those impressive stats might not have mattered, however, if not for Miller, who calmly drained a pair of 3-pointers in the final two minutes to help the Aggies complete a comeback from seven points down.
The first trey occurred with 1:43 remaining in the game, giving Utah State (4-1) the lead for the first time since the opening minutes of the second half. Then Miller did it again with 27 seconds left, extending the Aggies' advantage to 70-66, and they held on from there thanks to three free throws from Bean in the final 14 seconds.
"Justin was amazing throughout the entire tournament," Utah State coach Ryan Odom said of his senior forward, who averaged 24.7 points and 14 rebounds in being named the tournament MVP. "And those shots (by Miller) were huge. That's what we love about Brock. He's not afraid. He's a confident guy."
Oklahoma (4-1) came close to putting the game away before the Aggies made their comeback. The Sooners led 64-58 and had the ball with less than five minutes left, but missed 3-pointers on three consecutive possessions, enabling Utah State to close the gap to 64-62.
"We took three ill-advised 3s in a row," Oklahoma coach Porter Moser. "You have to understand time and score, and that starts with me. Get used to understanding possessions. … We need guard leadership on the floor. We don't need a 25-footer and then three in a row."
Even though the Sooners led for most of the second half, Utah State kept it close the entire way. The game was especially tight over the final four minutes, with neither team able to build more than a four-point lead.
"It was just a battle," Bean said. "It was punch-for-punch, both teams were throwing them. But we were mentally tough today. It was the biggest test of the year from that standpoint, just locking in and executing our sets and making the right reads and staying composed."
Moser also was pleased with the atmosphere his players experienced in the MBI, saying it will benefit the Sooners as the season progresses.
"It definitely felt like an NCAA (Tournament) type game," Moser said. "That's what you want this time of year. That's how you're going to grow. I'm disappointed that we loss, but we can have some take-aways from this game and move forward and grow from it."
New Mexico State 80, Indiana State 66: Donnie Tillman scored 23 points on 10-of-15 shooting and Will McNair Jr. had 12 points, 15 rebounds and five assists to lead New Mexico State past Indiana State, giving the Aggies third place in the Myrtle Beach Invitational.
NMSU (4-1) led nearly the entire game, building a 58-38 lead with 13 minutes to play. The Aggies sank 53.3 percent of their shots (32-of-60) and outrebounded Indiana State 38-23.
Micah Thomas paced the Sycamores with 23 points and Cooper Neese added 18.
Davidson 76, East Carolina 67: Hyunjung Lee posted a double-double with 25 points and 10 rebounds to help lead Davidson to a comeback victory over East Carolina for fifth place in the MBI.
ECU (4-2) led 45-34 at halftime and still held a double-digit advantage at 51-39 four minutes into the second half. But Davidson (3-2) went on an 18-4 run to take a 57-55 lead with 7:47 to play, then put the game away by scoring the final seven points, beginning with a 3-pointer by Luka Brajkovic with 1:05 left.
Tristen Newton had 28 points, five rebounds and five assists for the Pirates, and Vance Jackson added a double-double of his own with 12 points and 11 boards.
Penn 71, Old Dominion 63: Jonah Charles and Jordan Dingle scored 16 points each for Penn, which never trailed ODU in the MBI seventh-place game.
The Quakers (3-4) sank 48 percent of their shots, including 44 percent (11-of-25) from 3-point range. Charles was 5-for-7 from long distance and also grabbed seven rebounds.
ODU (2-4) used a late 13-3 run to cut a 16-point deficit to 67-61, but was unable to get any closer. Jaylin Hunter led the Monarchs with 15 points, six rebounds, eight assists and three steals.