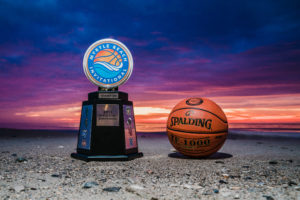 CONWAY, S.C., November 23, 2019 – The Villanova Wildcats will be attempting to win their seventh consecutive November tournament when they take on the Baylor Bears at 5 p.m. ET Sunday in the championship of the Myrtle Beach Invitational.
While that is a remarkable run of success, Baylor coach Scott Drew said the Bears bring some noteworthy credentials to the game as well.
"Villanova has most definitely set a standard of excellence in these tournaments," Drew said. "But at the same time – and this is one of my favorite stats – in the last 12 years, there are only six Power 5 schools that have won 18 or more (games each season). It's Duke, Kansas, North Carolina, Kentucky, Michigan State and Baylor. So we've been pretty consistent, too."
Both teams are 4-1, nationally ranked and have won three consecutive games, including two each in the Myrtle Beach Invitational. No. 17 Villanova defeated Middle Tennessee 98-69 and held off Mississippi State 83-76 in a bruising semifinal matchup, while 24th-ranked Baylor beat Ohio 76-53 and hometown favorite Coastal Carolina 77-65.
Villanova is led by Collin Gillespie, who has averaged 17 points and a tournament-leading eight assists per game, and Jeremiah Robinson-Earl, who has posted averages of 14 points, nine rebounds and three assists per game in the tourney.
Baylor counters with MaCio Teague, who is tied for the second-most points in the tournament with an average of 19 per game, and Jared Butler, who has averaged 15.5 points and four assists per game and has a tourney-best six steals.
For the Wildcats, a victory in Sunday's title game is important in order to continue the program's recent success in these types of tournaments. "It means everything, because we play for those who came before us," Robinson-Earl said. "They've set the tone for us to go out there and play Villanova basketball for 40 minutes every night."
But a win Sunday would be important to the Bears as well, partly because of the success Villanova has had both in November and in winning two national championship over the past four seasons.
"We know if we're going to win in March, we need to beat quality teams like Villanova," Drew said. "It's a great opportunity for us to see what we have to work on, what we have to get better at, and see where we stack right now with the nation's best."
Sunday's schedule begins with Tulane taking on Utah at 10:30 a.m. in a game broadcast on ESPNU, followed by Mississippi State vs. Coastal Carolina at 1 p.m. on ESPNews. The championship game will be shown on ESPN, and then the tournament concludes with Middle Tennessee facing Ohio at 7:30 p.m. on ESPNews.