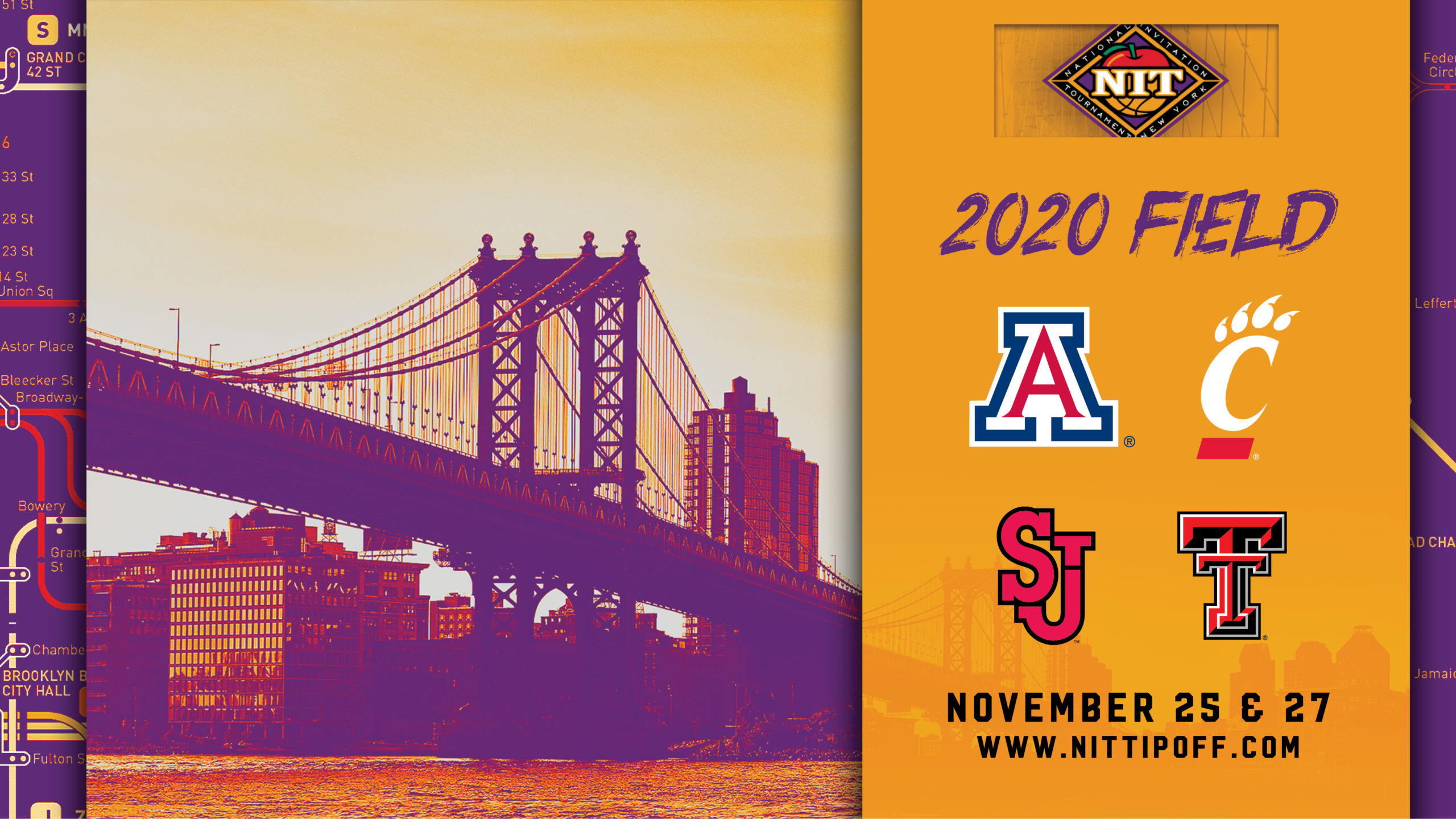 BROOKLYN (NOV. 27, 2019) – The NIT Season Tip-Off will return to Barclays Center for a sixth-straight season during Thanksgiving Week of 2020, featuring an elite group of teams from America's top conferences.
The field includes a pair of current Top 25 teams in the No. 12/12 Texas Tech Red Raiders of the Big 12 and the Pac-12's No. 14/14 Arizona Wildcats, as well as the Cincinnati Bearcats (RV/RV) of The American and the St. John's Red Storm of the BIG EAST.
12/12 Texas Tech advanced to the 2019 NCAA National Championship Final and won the Big 12 regular-season championship a year after reaching the 2018 NCAA Elite 8. The Red Raiders finished last season with a program-best 31 wins, including knocking off Michigan State in the NCAA national semifinal. Chris Beard is in his fourth season leading the program and owns an 81-31 record, including an 8-2 record in NCAA tournament play from the past two seasons.
14/14 Arizona, the winningest team in the Pac-12 since the conference expanded to 12 teams in 2012, will return to New York City for the first time since winning the 2013 NIT Season Tip-Off title with wins over Drexel and Duke at Madison Square Garden. Head coach Sean Miller has won eight conference titles – regular season and tournament – in his 10-plus seasons in Tucson, a total that is more than all other active Pac-12 coaches combined. The Wildcats have won an average of 26.4 games each year under Miller, the most in program history.
Cincinnati (RV/RV) ranks among the winningest programs in the nation over the last three-plus seasons and has appeared in each of the last nine NCAA Tournaments. John Brannen is in his first season leading the Bearcats after directing Northern Kentucky to three-straight postseason berths, including two Horizon League regular-season and tournament championships and a pair of NCAA Tournament showings.
Boasting the ninth-most victories all-time in NCAA Division I, St. John's has recorded 86 winning seasons in its 112-year history. Head Coach Mike Anderson is in his first season at St. John's after previously leading his teams at UAB, Missouri and Arkansas to 12 postseason appearances in 17 years.  Included in his nine NCAA Tournament appearances are two Sweet 16 berths and a trip to the Elite Eight in 2009.
This fall marks the sixth-straight year at Barclays Center for the NIT Season Tip-Off, which has been played in New York City every November since 1985. The outstanding 2019 field features Syracuse, Oklahoma State, Ole Miss and Penn State (RV/RV).
The NIT Season Tip-Off is one of 11 college basketball events owned and operated by ESPN Events, a division of ESPN.