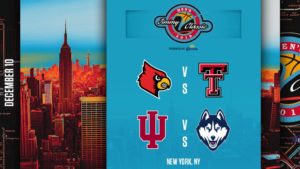 Game Times Determined for Annual Event
Tickets for the 2019 Jimmy V Men's Classic presented by Corona, taking place on Tuesday, Dec. 10, are now on sale. The 25th annual event will feature a potential top-15 matchup with Louisville facing national champion runner-up Texas Tech at 7 p.m. ET, followed by UConn playing Indiana at 9 p.m. Both matchups will air on ESPN from Madison Square Garden in New York City. The last installment of this year's Way-Too-Early Top 25 has Louisville ranked at number 5, while Texas Tech sits at number 11.
Ticket prices start at $61, which includes both games, and can be purchased at the Madison Square Garden Box Office, Ticketmaster charge by phone at (866) 858-0008 and online at www.ticketmaster.com and www.thegarden.com.
The early-season event will be part of the 13th annual V Week for Cancer Research – the weeklong initiative across multiple ESPN platforms featuring special content to help raise funds for cancer research. ESPN's 2019 Jimmy V Week for Cancer Research raised a record $8.3 million the V Foundation for Cancer Research – an 83 percent increase from last year. To date, V Week has raised over $30 million for cancer research.
This event is preceded by the State Farm Champions Classic, which will open the 2019-20 season in five weeks. Both the Jimmy V Men's Classic and Champions Classic are owned and operated by ESPN Events.