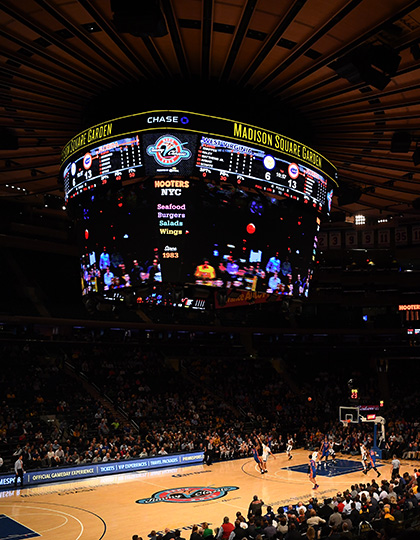 Tickets
Thank you for your interest in the 2019 Jimmy V Men's Classic Presented by Corona. The event will feature a doubleheader at Madison Square Garden on Tuesday, December 10:
Texas Tech vs. Louisville (7 PM) – potential matchup of Top 15 teams as Louisville is ranked #5 in the latest ESPN Way-Too-Early Top 25 while Texas Tech, fresh off an appearance in the national title game this past March, sits at #11.
Indiana vs. UConn (9 PM) – Have combined for nine national titles between them.
Tickets are on sale now starting at just $61 for both games! Bench assignments are as follows:
In front of Section 04 – Louisville and UConn
In front of Section 06 – Texas Tech and Indiana
Purchase Tickets
Ticket Pricing
Men's One Session
Tickets good for both games.
Courtside - Sideline
$406.00
Courtside - Baseline
$306.00
Sections 04-06 & 10-12
$206.00
Sections 01-03 & 07-09 (Non-Student)
$96.00
Chase Bridge & Balconies
$81.00
All 200 (Upper) Level
$61.00
Sections 01-03 & 07-09 (Student)
$15.00