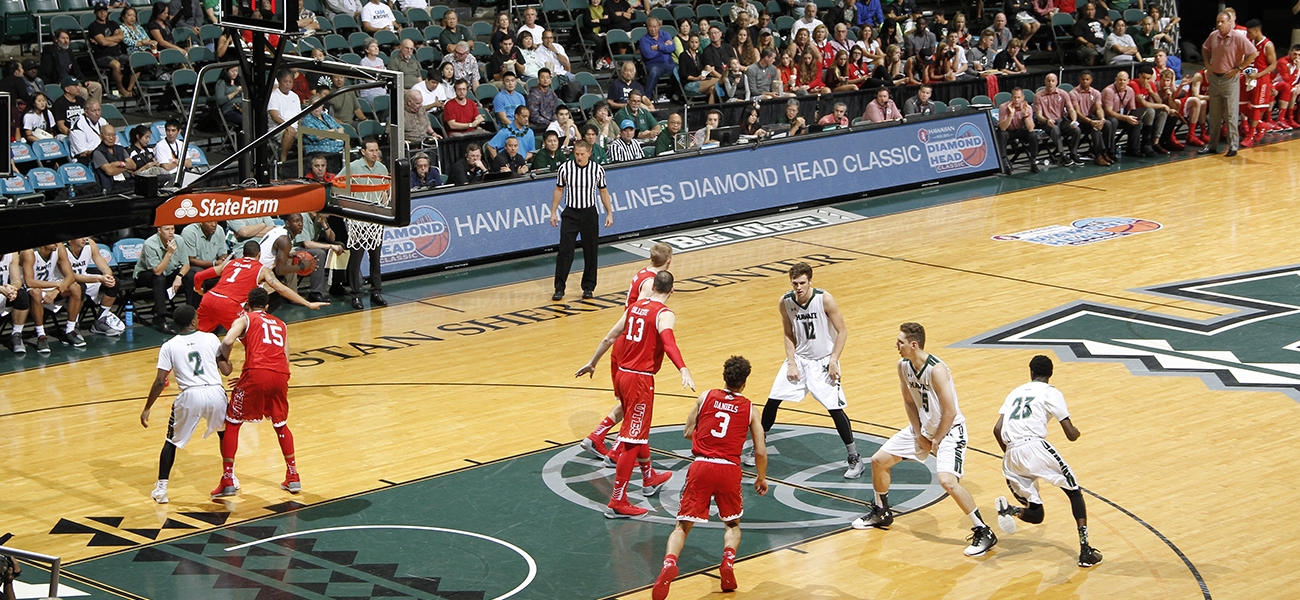 The Hawaiian Airlines Diamond Head Classic is an early-season Division 1 college basketball tournament played each December at the Stan Sheriff Center in Honolulu, Hawaii. The tournament, entering its 12th year in 2020, features a bracket format with 12 games over three days. Each team plays in one game each day regardless of results. The 2021 field will be announced in the coming months.
Steering Committee Members
Hugh Yoshida – Committee Chair
Peter Ingram – Hawaiian Airlines – Title Sponsor
Avi Mannis – Hawaiian Airlines – Title Sponsor
John Aeto – The Kalaimoku Group
Rick Blangiardi – Retired
David Carey – WDPCThree Consulting
Sean Dee – Outrigger Hotel & Resort
Jim Donovan – Cal State Fullerton Athletics
Patrick Dugan – Anthology Marketing Group
John Fink – Aloha United Way
Daryl Garvin- Hawai'i Bowl & Hawaiian Airlines Diamond Head Classic
Art Gladstone – Hawai'i Pacific Health
Steve Goodenow – The Hawaii Investigative Group, LLC
George Gutierrez – Nagamine Okawa Engineers, Inc.
Sidney Hamada – Flora-Dec Sales, Inc.
Craig Hirasaki – Hirasaki Nakagawa Design
Alan Hoffmann – Hoffman Communications
Allan Ikawa – Big Island Candies
Denis Isono – Central Pacific Bank
Mitch Kaaiali'i – First Hawaiian Bank
Brian Kealoha – Hawai'i Energy
Wes Kimura – Servco Pacific Inc.
Duane Kurisu – aio Group
Dave Lokar – Heineken USA
David A.K. Matlin – University of Hawai'i Athletics
Brad Motooka – University of Hawai'i Athletics
Don Murphy – Murphy's Bar and Grill
Marc Nakamoto – Sodexo
Quan Nguyen – Tunista Services, LLC
Ernie Nishizaki – Acumen Advisor LLC
Darryl Nohara – Retired
Tim Parker – Island Energy
Jeff Portnoy – Cades Schutte Law
John Sabas – Carlsmith Ball
MaryAnn Sacharski – Pacific Enterprise Capital, Intl.
Richard Sheriff – University of Hawai'i, Stan Sheriff Center
George Szigeti – Retired
Donald Takaki – Island Movers
Denise Takashima – Territorial Savings Bank
Tamarah Tabor – Hawai'i Bowl & Hawaiian Airlines Diamond Head Classic
Steve Teves – Hawaii Public Policy Advocates
Riley Wallace – Retired
Johnny White – OC Sports Analyst
Kent Youel – Retired US Coast Guard Officer
Kevin Yim – FCH Enterprises, Inc.