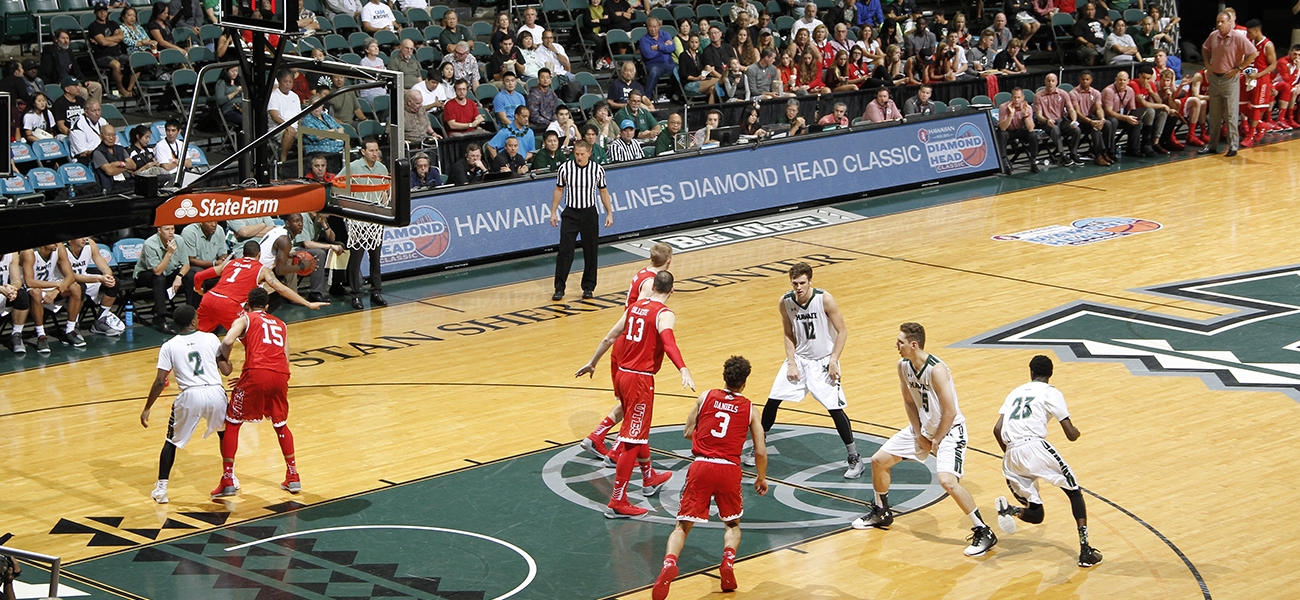 Tickets
Thank you for your interest in the 2021 Hawaiian Airlines Diamond Head Classic. Tickets will be available the week of December 13.
All Attendees (except children under the age of 5) entering the SimpliFi Arena at Stan Sheriff Center are required to provide proof of full vaccination against COVID-19 OR a negative COVID-19 test within 48 hours (two days) prior to entry.
The negative COVID-19 test result must be from an FDA approved, or FDA EUA approved, molecular or antigen test (home kits not allowed).
To receive information about special offers and on-sale dates, simply fill out the "sign up" form below.
Purchase Tickets
Ticket Pricing
All Tournament Packages
6 Sessions, 12 Games
Upper Level - J-BB, HH-Q
$90.00
Upper Level - CC-GG, P-K
$70.00
Reserved Session
Session 2, Session 4, Session 5 and Session 6
Upper Level - J-BB, HH-Q
$22.00
Upper Level - CC-GG, P-K
$15.00
General Admission
Session 1 and Session 3
Senior Citizen
Age 65 and Up
Session 2, 4, 5, & 6: Upper Level - J-BB, HH-Q
$18.00
Session 2, 4, 5, & 6: Upper Level - CC-GG, P-K
$13.00
Student
Age 4 to 18 with ID
Session 2, 4, 5, & 6: Upper Level - J-BB, HH-Q
$8.00
Session 2, 4, 5, & 6: Upper Level - CC-GG, P-K
$5.00