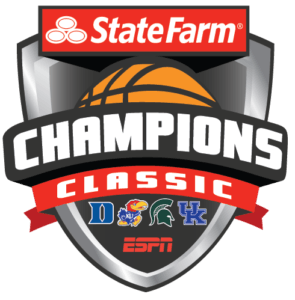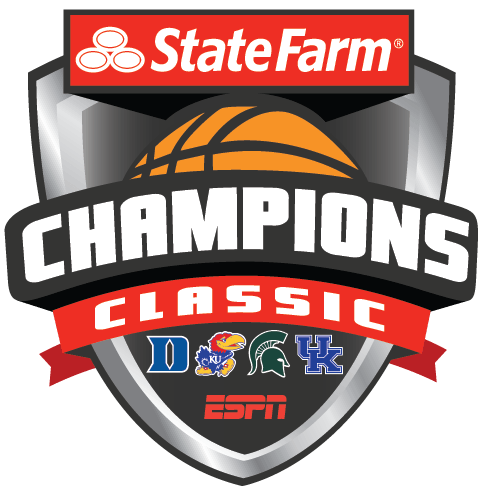 The State Farm Champions Classic – a neutral site doubleheader featuring Duke, Kansas, Kentucky and Michigan State – has been renewed through 2022. The early-season event heads to Chicago (2020), New York City (2021) and Indianapolis (2022) at United Center, Madison Square Garden and Bankers Life Fieldhouse, respectively. The inaugural game was held at Madison Square Garden in 2011 followed by the Georgia Dome in 2012.
"We are excited to continue with this marquee event, as it has become a fixture on the college basketball landscape," said Pete Derzis, ESPN senior vice president of college sports programming and events." The credit goes to these four outstanding programs for coming together annually to launch the season."
This year's Classic will feature No. 10 Michigan State facing No. 1 Kansas, and No. 4 Duke facing No. 2 Kentucky on college basketball's opening night from Bankers Life Fieldhouse on Tuesday, Nov. 6 (7 p.m. & 9:30 p.m., ESPN). The event returns to Madison Square Garden in 2019.
Future Champions Classic Matchups
2019 (New York City)
Kansas vs. Duke
Michigan State vs. Kentucky
2020 (Chicago)
Michigan State vs. Duke
Kansas vs. Kentucky
2021 (New York City)
Kansas vs. Michigan State
Kentucky vs. Duke
2022 (Indianapolis)
Kentucky vs. Michigan State
Duke vs. Kansas
History
Millions of fans have tuned into the Champions Classicover the last seven years. The 2017 matchups delivered the event's second highest viewership ever, behind the 2013 Classic.
A combined 18 NCAA Division I Men's Basketball Championship (since 1939): Kentucky (eight), Duke (five), Kansas (three) and Michigan State (two).
A total of 56 NCAA Final Four appearances (since 1939): Kentucky (17), Duke (16), Kansas (14) and Michigan State (9).
Since the Champions Classicbegan in 2011, all four teams have reached the NCAA Final Four at least once, with Kentucky and Duke winning national titles, in 2012 and 2015 respectively.
Over the last 14 games of the Classic, there have been 13 top-25 matchups and eight top 10 matchups, including two games featuring No. 1 vs. No. 2 (according to the AP poll).
Four Naismith Memorial Basketball Hall of Fame coaches in Calipari, Izzo, Krzyzewski and Self
To date, the event has taken place in four cities: Atlanta, Chicago, Indianapolis and New York.
-30-
Media contact: [email protected]